Five Night Retreat – Diving Deep with Dr. Dennis McKenna, Ph.D.
With Dr. Dennis McKenna, Ph.D., Teobaldo Ochavano Lopez and Marina Sinti Reategui
December 6 - 11, 2020
**Important Notice**
While it is our full intention to have this retreat take place on the original dates listed, due to the global situation, unforeseen travel restrictions, risks, or other events may require us to move this retreat to its alternate dates. By registering for this retreat, guests understand that in the event this retreat cannot take place on the originally scheduled dates due to events surrounding COVID-19, the alternate dates for this retreat are Feb 7 – 12, 2021. Should this occur, deposits are fully transferable to the alternate program dates, or another retreat with availability, with no change fees. We will be in touch with all registrations within 6 weeks of retreat start date should this occur.
—
Dennis McKenna's prolific career in ethnopharmacology, botany, and psychedelic science spans a wide variety of disciplines, avenues, and countries. He has given numerous lectures on topics ranging from plant medicines, to consciousness, to spirituality, to pharmacology, and has authored or co-authored over 50 peer-reviewed scientific papers and written books, including "The Brotherhood of the Screaming Abyss: My Life with Terence McKenna", and "The Invisible Landscape" with his brother Terence. He has also organized conferences, served as principle investigator for various research projects related to ayahuasca and other plant medicines, served as professor of Botanical Medicines and Ethnopharmacology, and conducted extensive fieldwork in the Peruvian, Colombian, and Brazilian Amazon. You can read his full bio here.
Dr. McKenna's advisory role to Soltara and extensive knowledge of psychedelics and plant medicines has informed our mission of spreading high quality information about these healing modalities. As such, we are excited and honored to be hosting Dr. McKenna for a special retreat of integrative medicine work, December 6 – 11, 2020. Offering a series of lectures and workshops as adjuncts to ayahuasca ceremony, Dr. McKenna will weave his scientific and cultural understanding of ayahuasca, psychedelics, consciousness, science, and spirituality throughout the week, providing an opportunity for participants to dive deeply into the world of holistic healing, from both an objective and experiential perspective.
Guests will embark on a journey of self- and world-discovery, as Dr. McKenna takes us through topics such as:
Climbing the Vine: 45 Years of Ayahuasca: Ayahuasca has been the focus of my professional research in Ethnopharmacology since I first came to Peru in 1981 to conduct fieldwork for my doctoral thesis at the University of British Columbia. Since then it has become integrated into my own spiritual practice while continuing to remain important to me as a subject for scientific investigation. I can honestly say that my most interesting travels and personal adventures as a scientist and human being have been due to ayahuasca. In this workshop, I will share some of these personal reminiscences plus a brief overview of some of the science behind this mysterious medicine.
Origins of the Imagination: Speculations on the Antiquity of Consciousness: No one knows for sure when consciousness first emerged in our species but we can speculate about the environmental and evolutionary forces that contributed to it. One major factor was the controlled use of fire, which stimulated the migration from arboreal to savannah environments, and vastly expanded nutritional options, contributing to omnivory. Fire also provided the fundamental tools needed for pharmacology and chemistry. Migration into savannah environments would also have brought ancient hominids into contact with Psilocybin mushrooms that co-existed in this environment as symbionts on ungulate species that were also major food sources for the hominids. Accidental or deliberate ingestion of these species may have been a catalyst for the emergence of cognition, symbolic thought, and language. The fossil record is incomplete, but we find evidence of human consciousness in the artifacts that show evidence of abstract thinking and internal visualization.
What is not Patented is Prohibited: The Exploitation, Ownership, and Criminalization of Nature: Indigenous people have accumulated an intricate and deeply-rooted knowledge of their biological environment. Historically, outside nations have come in and utilized this knowledge and plants for their own purposes, benefiting greatly from them but with little to no reciprocity for the indigenous stewards of such knowledge. As a result, there is a current cultural clash between modern nations and those who have maintained the ecological habitats and knowledge of these plants. This talk discusses the history, current issues and concerns surrounding indigenous knowledge, intellectual property rights, and "biopiracy" – the theft of indigenous knowledge and genetic resources.
…
Join us December 6 – 11, 2020 for 5 nights of integrative medicine work and deep spiritual healing, combining the time-honored practices of traditional Shipibo shamanism with an in-depth look at some of the most fascinating topics facing humanity today.
…
With the myriad of information out there, it can be difficult to determine where and how to start. Our goal at Soltara is to flip the script, bringing the expertise to you in an accessible, informed way, grounded in the spirit of cultural awareness and tradition.
---
Your stay at Soltara includes:
3 ayahuasca ceremonies with highly-experienced Peruvian female & male Shipibo healers
Multiple lectures and workshops led by Dr. McKenna throughout the week, followed by Q&A sessions
The opportunity to share stories, experiences, and ceremonies with Dr. McKenna throughout the week
Intimate group sizes (maximum capacity 20 guests) with individualized attention from healers during ceremony
High facilitator-to-guest ratio with skilled facilitators who have combined decades of experience working in ceremony and helping guests through the healing process
Your own copy of our integration book, The Hero's Journal, which assists you as you begin your own Hero's Journey (published by Soltara in collaboration with clinical psychologists, this book follows a psychological treatment framework adapted to the ayahuasca experience and includes beautiful art and self-guided tools to empower you in your medicine and integration journey)
One-on-one consultations with our healers (and translator)
On-site integration workshops and sharing circles
All meals in our conscious cuisine kitchen, prepared fresh daily from organic, pesticide-free, local sources in an ayahuasca-friendly manner
Transportation to and from the pick-up location near SJO airport (details in your confirmation email and on our travel logistics page)
Yoga classes for all levels throughout your stay
Pranayama breathwork and meditation sessions
Floral baths with medicinal plants lovingly prepared by our healers
Nature immersion and multiple walking trails in one of the most abundant & biodiverse regions on the planet
Access to our creative space for music, art, writing, and dance
Access to our private on-site pool
Air-conditioning in all rooms (except Eco-Tambo option)
High-speed WiFi (although we encourage all guests to disconnect as much as possible!)
Lifetime 10% discount for all return visits
Participation in our premiere integration program and community with a highly qualified integration support team
Access to two semi-private beaches with gentle waters along the gorgeous Gulf of Nicoya
---
.
Our all-inclusive program is designed for your optimal ease and comfort, so you can free your mind to focus fully on yourself and your experience.
We look forward to supporting you.
.
---
We are called to serve medicine in sacred ceremony with integrity, humility, and compassion. By creating a safe space and working only with experienced, well-intentioned healers and facilitators, we uphold the lessons of the medicines and build a foundation of mutual trust, authenticity, and respect. We are not gurus, preachers, or enlightened beings – our healers are maestros who humbly transmit the knowledge and healing energies of the plants, and our facilitators are devoted to helping guests face, process, and explore difficult experiences and emotions, handle projections, manage expectations, and surrender to the process. We strive to uphold the highest integrity in everything we do and be a beacon for responsible, safe, and ethical practices, such that our guests feel safe and supported to get the most out of their healing.
---
Teachers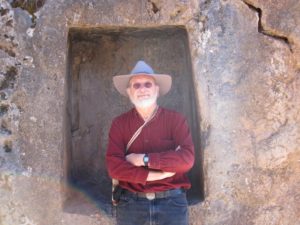 Dr. Dennis McKenna, Ph.D.
Dennis McKenna is an American ethnopharmacologist, research pharmacognosist, lecturer and author. He is a founding board member and the director of ethnopharmacology at the Heffter Research Institute, a non-profit organization concerned with the investigation of the potential therapeutic uses of psychedelic medicines. Dennis also serves on the Advisory Board of the American Botanical Council; as Founder and Executive Director for the Institute for Natural Products Research; as an Independent Research Consultant to the Phytomedicine and Nutraceutical Industry; was formerly on the Editorial Board of Phytomedicine, International Journal of Phytotherapy and Phytopharmacology; and is an adjunct professor in the Center for…
Learn more about Dr. Dennis McKenna, Ph.D.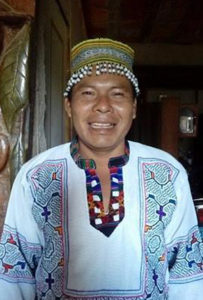 Teobaldo Ochavano Lopez
Teobaldo Ochavano Lopez was born in the Ronuya district of Iparía, in the Ucayali region of the Peruvian Amazon jungle. His father, Teobaldo Ochavano Mahua Doña Luisa Lopez Maynas, was the first bilingual teacher and shaman in his community, and his mother used plant medicines to cure and heal. All of his grandparents, on both sides, were also shamans. His entire family was very familiar with plant medicines, particularly ayahuasca, and from a very young age Teobaldo was surrounded by this medicine work. After witnessing its immense healing power, he chose to continue on the path himself, particularly since he…
Learn more about Teobaldo Ochavano Lopez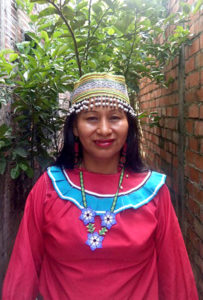 Marina Sinti Reategui
Marina Sinti Reategui was born in the Yarinacocha district of Pucallpa, in the Ucayali region of the Peruvian Amazon jungle. She is the daughter of Elias Sinti Magin Doña Exilda Reategui, and her grandmother and mother were both excellent shamans. She learned the medicine work of ayahuasca from her mother, and works with her husband Teobaldo help heal people together, both within their community and in bringing the medicine abroad. She has knowledge of many different medicinal plant remedies, and embodies the feminine aspect of the medicine in order to bring balance to the ceremonies. She and her husband are…
Learn more about Marina Sinti Reategui