The Realness Retreat
With Teobaldo Ochavano Lopez and Marina Sinti Reategui
May 19 - 24, 2019
–
It's about to get real.
–
Learn what it means to live in a judgment-free space, feel able to fully express yourself, and dive deep into self-exploration so you can have genuine alignment in all aspects of your life. You'll be able to practice being fully open with the other retreat guests and learn how that can lead to greater connections with yourself and your personal and professional relationships.
Meet the creators of Realness Retreats: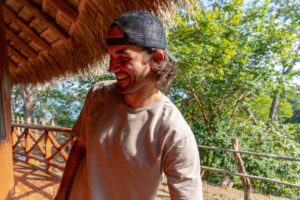 Conner Moore: Conner has created a life of sharing experiences and supporting others in self-reflection, empowered action, and authentic expression of themselves. This is his work, passion, and play.
Conner's mission is to support others in gaining access to their genuine nature through openness to a variety of self-explorative modalities including plant teachers, journaling, meditation, movement, and breath to expand boundaries of experience and discover an authentic way of being.
He is the host of The Realness Podcast, facilitates Realness Retreats, and coaches individuals in his Lifestyle Design Program.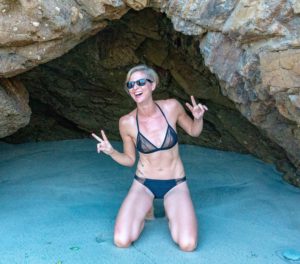 Kirsten Asher: Kirsten is a dancer and former stuntwoman who incorporates movement therapy, mobility flow, breath and self-growth in her practice working with her clients one-on-one and in group settings.
She turned a lesson learned at Soltara into her podcast called "It's Possible" where she shares her philosophy that possibilities are endless when you align and activate yourself. With this philosophy, she created an innovative approach to attaining physical, mental, emotional and spiritual alignment with practicality and mindfulness. Designed to improve awareness of the mind-body connection as a catalyst to reducing stress, her program helps participants explore the senses and take ownership of the way you express yourself and engage with the world around you.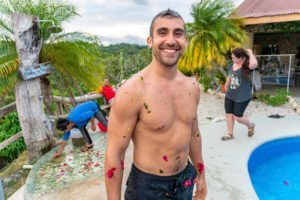 Mike Salemi: Mike specializes in human performance and is a sought after international presenter in the field of health and fitness.
Mike has a diverse background in strength and conditioning and has competed over the course of 15+ years at an elite level in Powerlifting and Kettlebell Sport. Through his own path of resolving sport-related injuries, Mike understands the importance of integrating the body, mind, and spirit as a means to foster high performance for the long term. His motivation is to help athletes, fitness professionals, and coaches discover their own potential from the inside-out.
Professionally, Mike has served as a Division 1 strength and conditioning coach for Santa Clara University, as well as been the trainer to elite athletes across a wide range of sports.
His focus is teaching educational workshops, certifications, and creating programs on unconventional training that build more balanced athletes.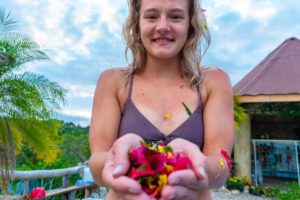 Abbey Miller: Abbey is the little-sister of the crew, but don't be fooled. She is wise beyond her years and provides support to the retreat team and participants. Her experience with her own personal work and plant medicines has led to a deep understanding of self-exploration.
Part graphic designer, part photographer, part sweetheart, full-time badass. If you need anything, Abbey has you covered.
---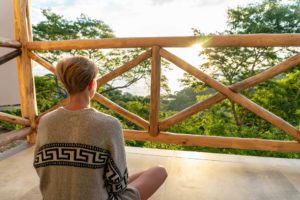 Come and immerse yourself in a week of connection, intention, medicine, and community. Tucked into the seaside cliffs of Costa Rica's Nicoya Peninsula, Soltara Healing Center will be our beautiful container as we explore a variety of healing modalities and set the space for your intuition to guide your process. Whether it's partaking in a plant medicine ceremony with a team of ethical, experienced Peruvian Shipibo shamans; activating your innate wisdom through movement classes; connecting to nature in one of the most abundant and biodiverse places in the world; or simply sitting in quiet meditation on the beach, you will be supported and cared for, before, during, and after your stay.
In addition to Soltara's amazing program, The Realness Retreat includes:
Daily morning movement and meditation gatherings

Eldoa Stretching workshop with Mike

Embodied Dance on the beach led by Kirsten

One-on-one sessions with Conner and Kirsten

Daily flow workouts

Self Expression practices led by Conner

Optional Breathwork with Mike and Conner

Optional daily open gym time with Mike and Conner

Optional flow movement sessions with Kirsten
Your stay at Soltara also includes:
3 ayahuasca ceremonies with highly-experienced Peruvian female & male Shipibo healers
Intimate group sizes (maximum capacity 20 guests) with individualized attention from healers during ceremony
High facilitator-to-guest ratio with skilled facilitators who have combined decades of experience working in ceremony and helping guests through the healing process
One-on-one consultations with our healers (and translator)
On-site integration workshops and sharing circles
All meals in our conscious cuisine kitchen, prepared fresh daily from organic, pesticide-free, local sources in an ayahuasca-friendly manner
Transportation to and from the pick-up location near SJO airport (details in your confirmation email and on our travel logistics page)
Yoga classes for all levels throughout your stay
Pranayama breathwork and meditation sessions
Floral baths with medicinal plants lovingly prepared by our healers
Nature immersion and multiple walking trails in one of the most abundant & biodiverse regions on the planet
Access to our creative space for music, art, writing, and dance
Access to our private on-site pool
Air-conditioning in all rooms
High-speed WiFi (although we encourage all guests to disconnect as much as possible!)
Lifetime 10% discount for all return visits
Participation in our premiere integration program and community with a highly qualified integration support team
Access to two semi-private beaches with gentle waters along the gorgeous Gulf of Nicoya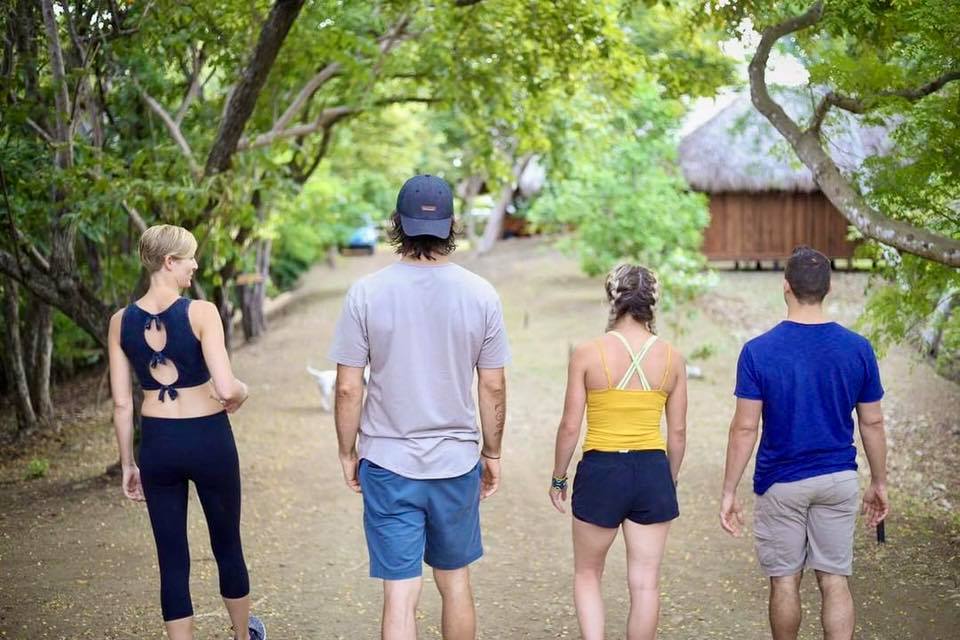 .
---
We are called to serve medicine in sacred ceremony with integrity, humility, and compassion. By creating a safe space and working only with experienced, well-intentioned healers and facilitators, we uphold the lessons of the medicines and build a foundation of mutual trust, authenticity, and respect. We are not gurus, preachers, or enlightened beings – our healers are maestros who humbly transmit the knowledge and healing energies of the plants, and our facilitators are devoted to helping guests face, process, and explore difficult experiences and emotions, handle projections, manage expectations, and surrender to the process. We strive to uphold the highest integrity in everything we do and be a beacon for responsible, safe, and ethical practices, such that our guests feel safe and supported to get the most out of their healing.
---
Teachers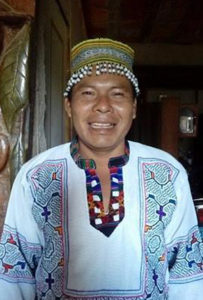 Teobaldo Ochavano Lopez
Teobaldo Ochavano Lopez was born in the Ronuya district of Iparía, in the Ucayali region of the Peruvian Amazon jungle. His father, Teobaldo Ochavano Mahua Doña Luisa Lopez Maynas, was the first bilingual teacher and shaman in his community, and his mother used plant medicines to cure and heal. All of his grandparents, on both sides, were also shamans. His entire family was very familiar with plant medicines, particularly ayahuasca, and from a very young age Teobaldo was surrounded by this medicine work. After witnessing its immense healing power, he chose to continue on the path himself, particularly since he…
Learn more about Teobaldo Ochavano Lopez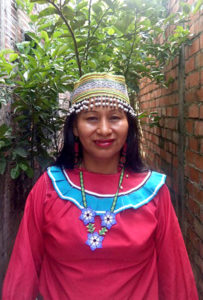 Marina Sinti Reategui
Marina Sinti Reategui was born in the Yarinacocha district of Pucallpa, in the Ucayali region of the Peruvian Amazon jungle. She is the daughter of Elias Sinti Magin Doña Exilda Reategui, and her grandmother and mother were both excellent shamans. She learned the medicine work of ayahuasca from her mother, and works with her husband Teobaldo help heal people together, both within their community and in bringing the medicine abroad. She has knowledge of many different medicinal plant remedies, and embodies the feminine aspect of the medicine in order to bring balance to the ceremonies. She and her husband are…
Learn more about Marina Sinti Reategui